Support the Lochmüller Lab in the annual Cycle for CHEO ride!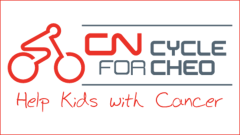 On May 5th, Lochmüller Lab team members and friends are participating in the annual CN Cycle for CHEO bike ride to raise funds to ensure that CHEO remains a leader in creating better treatment options and finding new cures so that more kids survive cancer.
We want to raise awareness and funds for cancer research, care and support.
All donations help CHEO continue their life-saving work. Please donate today!