Research Associate, CHEO Research Institute
Email Sally
Sally completed her PhD in the Mitochondrial Research Group in Newcastle, UK in 2012 under the supervision of Professors Doug Turnbull and Hanns Lochmüller. Her thesis examined the presence of mitochondrial DNA deletions in muscle stem cells (satellite cells) in patients with mitochondrial myopathies.
Following her PhD, she moved across the Atlantic to Montreal to begin what would be a 4-year post-doctoral position with Professors Tanja Taivassalo and Russell Hepple, at first at McGill University and then at the McGill University Health Centre. Initially she worked on projects examining the role of mitochondria in clinical conditions (e.g COPD) and ageing, and later moved on to explore the role of neuromuscular junction (NMJ) stability in ageing. In 2016 she returned to the UK and Newcastle to work with Professor Lochmüller on a project to test novel treatments for patients with congenital myasthenic syndromes (disorders of the NMJ).
Sally is extremely excited to have returned to Canada and to be helping Professor Lochmüller set up his lab in Ottawa.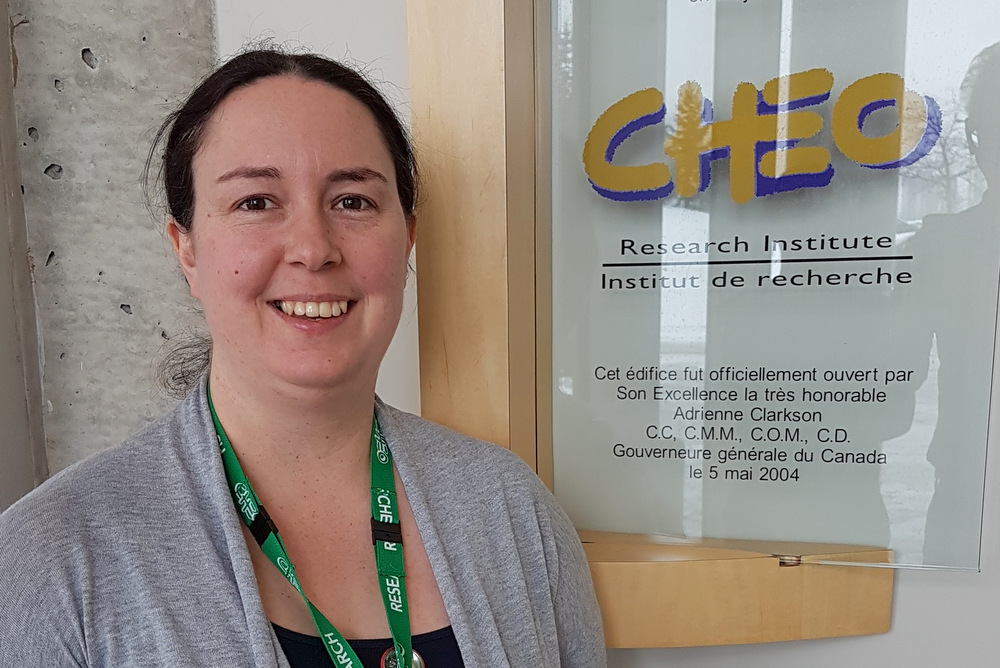 O'Connor, K, Spendiff, S, Lochmüller, H, Horvath, R. Mitochondrial Mutations Can Alter Neuromuscular Transmission in Congenital Myasthenic Syndrome and Mitochondrial Disease. Int J Mol Sci. 2023.24 (10) PMID:37239850
Pugliese, A, Holland, SH, Rodolico, C, Lochmüller, H, Spendiff, S. Presynaptic Congenital Myasthenic Syndromes: Understanding Clinical Phenotypes through In vivo Models. J Neuromuscul Dis. 2023.10 (5)731-759 PMID:37212067
Nguyen, CDL, Jimenez-Moreno, AC, Merker, M, Bowers, CJ, Nikolenko, N, Hentschel, A et al.. Periostin as a blood biomarker of muscle cell fibrosis, cardiomyopathy and disease severity in myotonic dystrophy type 1. J Neurol. 2023.270 (6)3138-3158 PMID:36892629
Spendiff, S, Dong, Y, Maggi, L, Rodríguez Cruz, PM, Beeson, D, Lochmüller, H et al.. 260th ENMC International Workshop: Congenital myasthenic syndromes 11-13 March 2022, Hoofddorp, The Netherlands. Neuromuscul Disord. 2023.33 (9)111-118 PMID:36609117
van Cruchten, RTP, van As, D, Glennon, JC, van Engelen, BGM, 't Hoen, PAC, OPTIMISTIC consortium et al.. Clinical improvement of DM1 patients reflected by reversal of disease-induced gene expression in blood. BMC Med. 2022.20 (1)395 PMID:36352383
Lam, DD, Williams, RH, Lujan, E, Tanabe, K, Huber, G, Saw, NL et al.. Collagen VI Regulates Motor Circuit Plasticity and Motor Performance by Cannabinoid Modulation. J Neurosci. 2022.42 (8)1557-1573 PMID:34965974
Manta, A, Spendiff, S, Lochmüller, H, Thompson, R. Targeted Therapies for Metabolic Myopathies Related to Glycogen Storage and Lipid Metabolism: a Systematic Review and Steps Towards a 'Treatabolome'. J Neuromuscul Dis. 2021.8 (3)401-417 PMID:33720849
Spendiff, S, Howarth, R, McMacken, G, Davey, T, Quinlan, K, O'Connor, E et al.. Modulation of the Acetylcholine Receptor Clustering Pathway Improves Neuromuscular Junction Structure and Muscle Strength in a Mouse Model of Congenital Myasthenic Syndrome. Front Mol Neurosci. 2020.13 594220 PMID:33390901
Thompson, R, Spendiff, S, Roos, A, Bourque, PR, Warman Chardon, J, Kirschner, J et al.. Advances in the diagnosis of inherited neuromuscular diseases and implications for therapy development. Lancet Neurol. 2020.19 (6)522-532 PMID:32470424
O'Connor, E, Cairns, G, Spendiff, S, Burns, D, Hettwer, S, Mäder, A et al.. Modulation of Agrin and RhoA Pathways Ameliorates Movement Defects and Synapse Morphology in MYO9A-Depleted Zebrafish. Cells. 2019.8 (8) PMID:31394789
McMacken, GM, Spendiff, S, Whittaker, RG, O'Connor, E, Howarth, RM, Boczonadi, V et al.. Salbutamol modifies the neuromuscular junction in a mouse model of ColQ myasthenic syndrome. Hum Mol Genet. 2019.28 (14)2339-2351 PMID:31220253
Cipriani, S, Phan, V, Médard, JJ, Horvath, R, Lochmüller, H, Chrast, R et al.. Neuromuscular Junction Changes in a Mouse Model of Charcot-Marie-Tooth Disease Type 4C. Int J Mol Sci. 2018.19 (12) PMID:30562927
Phan, V, Cox, D, Cipriani, S, Spendiff, S, Buchkremer, S, O'Connor, E et al.. SIL1 deficiency causes degenerative changes of peripheral nerves and neuromuscular junctions in fish, mice and human. Neurobiol Dis. 2019.124 218-229 PMID:30468864
Issop, Y, Hathazi, D, Khan, MM, Rudolf, R, Weis, J, Spendiff, S et al.. GFPT1 deficiency in muscle leads to myasthenia and myopathy in mice. Hum Mol Genet. 2018.27 (18)3218-3232 PMID:29905857
O'Connor, E, Töpf, A, Zahedi, RP, Spendiff, S, Cox, D, Roos, A et al.. Clinical and research strategies for limb-girdle congenital myasthenic syndromes. Ann N Y Acad Sci. 2018.1412 (1)102-112 PMID:29315608
See more on PubMed