Postdoctoral Research Fellow
Email Emily
Emily completed her PhD at Newcastle University, UK, in 2019 under the supervision of Professors Hanns Lochmüller and Clarke Slater. Prior to this she completed an MSci degree during which she examined genetic data from patients and identified a novel causative gene for a subtype of the rare group of diseases Congenital Myasthenic Syndromes (CMS). Subsequently, in her PhD project she researched the role of the gene and its associated protein at the neuromuscular junction. After successfully defending her thesis in June 2019 and obtaining a postdoctoral research fellowship from AFM-Téléthon, she moved to Ottawa to take up a position in the Lochmüller lab. Emily is looking forward to starting new projects aimed toward testing new treatments for CMS and other neuromuscular diseases as part of new collaborations.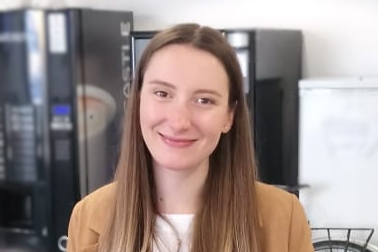 O'Connor, E, Cairns, G, Spendiff, S, Burns, D, Hettwer, S, Mäder, A et al.. Modulation of Agrin and RhoA Pathways Ameliorates Movement Defects and Synapse Morphology in MYO9A-Depleted Zebrafish. Cells. 2019.8 (8) PMID:31394789
McMacken, GM, Spendiff, S, Whittaker, RG, O'Connor, E, Howarth, RM, Boczonadi, V et al.. Salbutamol modifies the neuromuscular junction in a mouse model of ColQ myasthenic syndrome. Hum. Mol. Genet. 2019.28 (14)2339-2351 PMID:31220253
Phan, V, Cox, D, Cipriani, S, Spendiff, S, Buchkremer, S, O'Connor, E et al.. SIL1 deficiency causes degenerative changes of peripheral nerves and neuromuscular junctions in fish, mice and human. Neurobiol. Dis. 2019.124 218-229 PMID:30468864
O'Connor, E, Phan, V, Cordts, I, Cairns, G, Hettwer, S, Cox, D et al.. MYO9A deficiency in motor neurons is associated with reduced neuromuscular agrin secretion. Hum. Mol. Genet. 2018.27 (8)1434-1446 PMID:29462312
O'Connor, E, Töpf, A, Zahedi, RP, Spendiff, S, Cox, D, Roos, A et al.. Clinical and research strategies for limb-girdle congenital myasthenic syndromes. Ann. N. Y. Acad. Sci. 2018.1412 (1)102-112 PMID:29315608
Boyle, KA, Gutierrez-Mecinas, M, Polgár, E, Mooney, N, O'Connor, E, Furuta, T et al.. A quantitative study of neurochemically defined populations of inhibitory interneurons in the superficial dorsal horn of the mouse spinal cord. Neuroscience. 2017.363 120-133 PMID:28860091
O'Connor, E, Töpf, A, Müller, JS, Cox, D, Evangelista, T, Colomer, J et al.. Identification of mutations in the MYO9A gene in patients with congenital myasthenic syndrome. Brain. 2016.139 (Pt 8)2143-53 PMID:27259756
Khan, MM, Lustrino, D, Silveira, WA, Wild, F, Straka, T, Issop, Y et al.. Sympathetic innervation controls homeostasis of neuromuscular junctions in health and disease. Proc. Natl. Acad. Sci. U.S.A. 2016.113 (3)746-50 PMID:26733679
Nair K, Umapathy K, Farid T, Masse S, Mueller E, Sivanandan RV, Poku K, Rao V, Nair V, Butany J, Ideker RE, Nanthakumar K.Intramural activation during early human ventricular fibrillation. Circ Arrhythm Electrophysiol, 4(5): 692-703, 2011.
Mueller EE, Momen A, Massé S, Zhou YQ, Liu J, Backx PH, Henkelman RM, Nanthakumar K, Stewart DJ, Husain M.Electrical remodelling precedes heart failure in an endothelin-1 induced model of cardiomyopathy. Cardiovasc Res, 89(3): 623-33, 2011.
Mueller EE, Grandy SA, Ferrier GR, Howlett SE.PKA-mediated phosphorylation contributes to enhanced contraction observed in mice that over-express β-adrenergic receptor kinase--1. J Pharmacol Exp Ther, Dec; 319(3): 1307-16, 2006.
Grandy SA, Mueller EE, Ferrier GR, Howlett SE.The role of β-adrenergic receptor signaling in regulation of cardiac contraction. Recent Res Dev Physiol, 2: 1-19, 2004.
See more on PubMed